Create Procedures
Create General or Equipment Specific Lockout Tagout procedures, with Application Method and Photographs as a Visual Reference for each Isolation Point or Step within the Procedure.

Execute Procedures on a Tablet
Using the Mobile App employees can Execute Lockout Tagout Procedures on any iOS, Android, Windows 10 Device, with responses such as Yes/No, Pass/Fail, or Selecting an Option from A Drop Down List. Employees can add comments and photos with annotation at each Step within the procedure.

Lockout Tagout History
View the Lockout / Tagout status for all equipment, see the duration and total downtime for each piece of equipment and access historical data regarding equipment status and Lockout Tagout procedures completed.

Review Procedures
Scan a Barcode or QR Code to Review Lockout Tagout procedures using the Mobile App. Employees can view related documentation for each Machine, adding comments and photographs with annotation which can then be applied to the procedure.
Compliance EMail Alerts
Compliance EMail Alerts give managers notice of the Lockout Tagout Procedures that are due to be reviewed within 7 days, 30 days, anytime period aiding compliance and reducing the risk of accidents.

Dashboards
View Dashboards with statistics for Lockout Tagouts, Status, Duration and Downtime. duration and total downtime. Dashboards show Lockout Tagout History with Date, Time and User, Highlight Procedures Due for Review and Visualize Active Lockout Tagouts by Facility/Area.

Web Portal
Manage inventory of Equipment / inspection points across any number of facilities or buildings. Web App providers a complete inventory of your Equipment / Inspection Points and their status. Manage all procedures documents. Create Email Alerts to notify those Responsible for Procedures that are due for Review to maintain Compliance.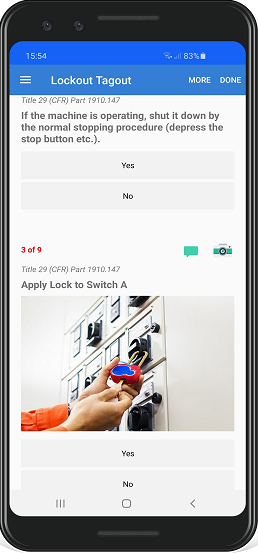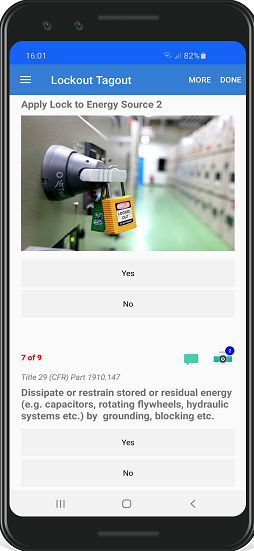 BOOK A DEMO
See all the features of IMEC's Lockout Tagout Management Software